Robert Scott Irvine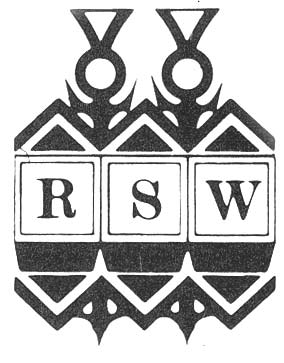 R. Scott Irvine, or "Otto", as he was universally known, was born in Edinburgh in 1906, educated at George Heriot's School, and trained at Edinburgh College of Art from 1922 until 1927, studying Painting under such teaching heavyweights as Henry Lintott. David Alison, David M. Sutherland, Adam Bruce Thomson and John Duncan. William Gillies and the "Twenty Two Group" were leaving College but much in evidence and John Maxwell was a year earlier than Otto, so good painters abounded. After his teaching qualification at Moray House, Otto embarked upon a professional career which, both by his teaching and his painting, gave much pleasure and enrichment to others.
Watercolour became his primary medium of expression and he had the unusual distinction for those days of being elected to this Society at the early age of twenty eight, in 1934. By the time of his death in September 1988 he was the most Senior Member. Otto was enormously proud of the RSW and regarded it as a signal honour to belong to it. He served on various Councils, having happy memories of the Presidency of the late John Gray who with his poet brother Sir Alexander Gray was a close friend; John Gray and Otto went on many painting trips together, and another artist friend, A. Graham Munro RSW, invited Otto to paint beside him in Tetuan. Early in his career, Otto demonstrated an ability to abstract from a landscape subject and to formalise and compose. He was thoughtful and deliberate as a painter, sensitive to the intrinsic qualities of watercolour and always able to keep it vibrant and luminous. In technique he is perhaps nearer to the English mainstream than to the more expressionistic Scottish boldness - perhaps closer to the tradition of Cotman or Towne in the past or to the Nash brothers in recent times, but he is always recognisably himself, because he had integrity.
Otto's teaching career at George Watson's College lasted from 1936 until retirement in 1971, and he found no conflict between the complementary activities of teaching and painting. In the Second World War he served as a Liaison Officer in the Eighth Army, and also found time to paint some interesting wartime subjects. A warm and welcoming courtesy and a natural gregariousness made him a memorable President of the Scottish Arts Club, and he valued friendships, but his total devotion to his invalid wife Betty during the last ten years of his life caused him to put aside most social contacts and almost all his painting. It is hoped that Members will enjoy seeing once again - or for the first time - some of his paintings in the present exhibition.
For The 'Royal Scottish Society of Painters in Water Colours' 109th Annual Exhibition
1989 at The Royal Scottish Academy Galleries, Edinburgh, Scotland.
---

Scotman's Obituary 7/9/88
"OTTO" Scott Irvine, as he was universally known to his friends, will be remembered with affection by a great many pupils of the then George Watson's Boy's College, where he was Art Master for over 30 years before his retirement in the 1970s.
A teacher of discernment and distinction, he was also a distinguished artist - the longest-serving member of the Royal Scottish Society of Painters in Watercolours - and a man of great integrity and charm.
He was born in Edinburgh in 1906 and (although it was not something one would boast about in George Watson's!) was educated at George Heriot's. He, trained at Edinburgh College of Art from 1922-27, became a teacher, and after some brief experience in schools in Edinburgh and Broughty Ferry, came to Watson's in 1936.
Although at the College of Art he had come under the tutelage of such formidable practitioners of oil painting as Henry Lintott and David Alison, when he began to develop his own art it was to the medium of watercolour that he turned. As a specialist in this medium, his exemplars were possibly more English than Scottish - the planned watercolours of Cotman, the quality of vision of the Nash brothers, of Ravilious, something of Bawden's ingenuity of design. This is a notable choice of masters, and Robert Scott Irvine made from it something very recognisably his own.
Otto was a gregarious person and was proud of his RSW membership and of his memorable Presidency of the Scottish Arts Club in 1952-54. He helped many young artists throughout his life and some will recall him as the liasion organiser for the Young Scottish Artists competitions.
He was a wonderfully civilised man and his charisma was matched by his kindness. He is survived by wife Betty, and their son Henry.
Jack Firth, 'The Scotsman' Arts Section, Wedensday, September 7th, 1988 page13