A Pool, Dichty Burn reviews - 1930
A Newcomer
Some of the water-colours of Mr. R. Scott Irvine, a newcomer to the exhibition at Dundee's Municipal Art Galleries, show the draughtmanship and rare handling of colour 'A Pool, Dichty Burn' is a delightful little picture.
---
Edinburgh Evening News
Attractive Water-Colours.
Mr R. Scott Irvine's name is unknown to the present writer, but he is, to be included among the newcomers whose work attracts attention among so much that is familiar. He handles water-colour with a very considerable amount of sensibility; he is good and has an eye for colour. 'A Pool, Dichty Burn' 'Cirlce of Trees' and other of his water-colours are delightful things. Paul Nash and other moderns have apparently influenced him, but there is an individualitv and freshness in his, work.
WATER COLOUR SOCIETY EXHIBITION 1933
R. Scott Irvine's "Mist After Rain", with its muted colour, conveys that feeling of mystery associated with the varying moods of the Arran hills, and his "Mill Road", well designed and of good tonal quality, shows a leaning towards the modern school of landscape art which lays stress on design.
The Scotsman Review
The Edinburgh Evening Dispatch - January 1941

Another Art Exhibition
To the exhibitions that reveal Scotland's interest in art must be added that of the Society of Painters in water-colours, now open in the RSA Galleries.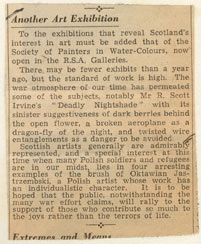 There may be fewer exhibits than a year ago, but the standard of work is high. The war atmosphere of our time has permeated some of the subjects, notably Mr R. Scott Irvine's "Deadly Nightshade" with its sinister suggestiveness of dark berries behind the open flower, a broken aeroplane as a dragon-fly of the night, and twisted wire entanglements as a danger to be avoided.
Scottish artists generally are admirably represented, and a special interest at this time when many Polish soldiers and refugees are in our midst lies in four arresting examples of the brush of Oktawian Jastrzembski, a Polish artist whose work has an individualistic character. It is to be hoped that the public, notwithstanding the many war effort claims, will rally to the, support of those who contribute so much to the joys rather than the terrors of life.
The Scotsman - January 1941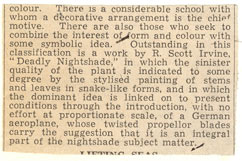 There is a considerable school with whom a decorative arrangement is the chief motive. There are also those who seek to combine the interest of form and colour with some symbolic idea. Outstanding in this classification is a work by R. Scott Irvine, "Deadly Nightshade," in which the sinister quality of the plant is indicated to some degree by the stylised painting of stems and leaves in snake-like forms, and in which the dominant idea is linked on to present conditions through the introduction, with no effort at proportionate scale, of a German I aeroplane, whose twisted propellor blades carry the suggestion that it is an integral part of the nightshade subject matter.
The Scotsman - from the 'Scotsman's Log' - January 1941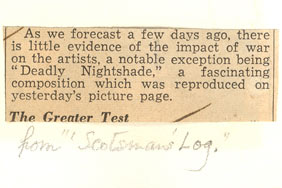 As we forecast a few days ago, there is little evidence of the impact of war on the artists, a notable exception being "Deadly Nightshade," a fascinating composition which was reproduced on yesterday's picture page.
The Scotsman - January 1941
'DUNKIRK EPIC'
War Pictures at Edinburgh, Exhibition
Art exhibitions held in Edinburgh during the 16 months of warfare have revealed very little of the war-time influence in the subject matter chosen by the artists. In that respect the 61st annual exhibition of the Royal Scottish Society of Painters in water-colours, which opens to-day in the Royal Scottish Academy Galleries, Edinburgh, does not differ greatly from previous exhibitions held there. It is, however, significant that of about six pictures which owe their inspiration directly or indirectly to the war, the character of each one is distinct from the other.
There is, for example, "The Epic of Dunkirk", by Frank W. Wood, and, on the other hand, there is "Dogs of War", by J. Murray Thomson, symbolic in inspiration, but not in treatment, and an imaginative study, "Deadly Nightshade", by R. Scott Irvine, handled in decorative style. The Dunkirk scene is fairly large in size, with a prevailing tone of blue. Motor launches, tugs, and ferry boats, together with ships of the Navy, crammed with the figures of uniformed men, are introduced in the foreground, the background ground being the town itself.
"Dogs of War" presents four dogs with ferocious expressions. The animals are painted in careful detail with the background, in varying shades of red, heightening the effect. "Deadly Nightshade" is carried out in light tones. It depicts a German aeroplane forced down near ploughed fields. A large plant, its stems curling in snakellike style, occupies the greater part of the foreground, where a line of barbed wire is prominently featured. A portrait, one of the few in the exhibition, is indirectly influenced by the war. It is a study of an evacuee, by William Armour, RSW.
"DEADLY NIGHTSHADE" Exhibited at the R.S.W. Exhibition, 1941
In Britain the name of Deadly Nightshade is popularly given not to the rare shrub Atropa Belladonna with its dark purple flowers and large black berries, but to the Bitter-sweet or Woody Nightshade with its scarlet berries. The former here provides the central theme in a composition overspread with the sinister presence of Bellona, Goddess of War. Ruin is here-the plant often grows as a wilding among ruined buildings-and Atropos, last of the Fates, who severs the Thread of Life.
Times Educational Supplement Review of 15.06.73 of the Exhibition at the Douglas & Foulis Gallery, Edinburgh
DISCIPLINED PATTERNS
There is a certain competent moderation about the 44 decorative watercolours displayed until June 23rd in the Douglas and Foulis Gallery, Castle Street, Edinburgh, by Robert Scott Irvine, who retired recently as head art master at George Watson's College.
None is unduly large, or tiny, the technique is restrained, and the pleasing colours are gentle and subtle rather than startling. The subjects are almost all landscapes, many local and recognizable as in the attractive "Newington House" in its twilight blues, greens, greys and violet, or "Church and Manse, Temple", which might serve as illustraitor for a sober fairytale. Here are no splashy impromptu sketches, but for the most part disciplined, precisely outlined patterns. well composed. In "Harvestfield, Loch Lomonside" the sunlight casts the stooks' lilac shadows on to the shaven fields, echoed in the further hills; in "Tunnel Backwater" the mood is darker and more secretive, and the ornamental quality of the shapes is emphasised, as' also in "Glencourse Woods". Notable for its very paleness is the "Sketch on the Almond", misty yet precise and by no means insipid.
A few of the paintings are of distant sports. In "Mosque in the Rif" the white building, and the dusty white road, stand clearly outlined against a greenish sky and tan background, the sharp prongs of an agave in front. "Twin Monkey-Puzzles", although not definitely placed, seems to me to stem from the same district; snow lies on the ground, but the up-curling fronds of the tufted araucarias appear to pretend to be palms.
Somewhat out with these categories are the symphony in greens, "Palm House" (in a botanical garden), and a relic of the war years in which a big red cross plays a prominent part, "Atlantic 44".
Sheila Richardson
Entry in 'the Dictionary of Artists in Britain' by David Buckman published 1998
IRVINE, Robert Scott (aka "Otto"), RSW (1933); painter in watercolour; formerly principal art master at George Watson's College; born Edinburgh, 16 March 1906; Son of Robert Irvine, art master at Portobello School Edinburgh; Married Elizabeth, D.A. (1954); one son, Henry James Scott Irvine. Educated at George Heriots, Edinburgh studied art at Edinburgh College of Art (1922-27). Exhibited RSA, RSW, SSA, etc. provinces, America, Canada etc; most recent one non shows: Douglas & Foulis Gallery, Edinburgh (1973), Gallery Paton (1975), Scottish Arts Club, Edinburgh (1978).
Work in permanent Collections: Aberdeen Municipal Gallery, Dundee Municipal Gallery, RSA Edinburgh. Most recent official purcchases as above. Club: Scottish Arts (President. 1951-53) Director & Organiser of the Pernod sponsored "Young Scottish Artists Competitions" (1967-1977). Died in Edinburgh 3.9.88 - & RSW's 'most senior member'. Obituary in the 109th RSW programme. Obituary in "The Scotsman" 7.9.88.
Signed, works, R Scot Irvine
The Royal Glasglow Institute Exhibition 1931 - 1957
Exhibited at the Royal Glasgow Institute
1931 624 Ben Nuis Range, Arran (watercolour) £7
1936 719 Hill Croft, Lochranza (watercolour) £15
1936 762 Amaryllis (watercolour) £17
1939 596 The Pass of Melfort (watercolour) £10
1939 620 La Petite Plage, Saint Malo (watercolour) £15
1940 291 Rocky Pool, Arran (watercolour) £10
1940 605 Winter Landscape (watercolour) £15
1944 208 Sannox Peaks, Arran (watercolour) £10
1944 433 The Mooklie, Sannox (watercolour) £10
1953 577 Kirkby Ravensworth (watercolour) £25
1953 602 Moorland Above Pitlochry (watercolour) £20
1957 604 Passing Clouds above Pitlochry (watercolour) £18
The Royal Scottish Academy Exhibitions 1932 - 1953
Exhibited at the RSA
1932 514 Landscape
1932 540 Seven arches
1933 433 Cramond Bridge
1933 447 Derelict quarry
1939 357 Cote d'Emeraude
1939 493 Dryburgh Abbey
1940 495 Sanctuary
1941 541 Winter
1946 449 Newington House
1946 473 Dryburgh Abbey
1953 527 Border sanctuary
The Dundee Evening Post & Telegraph - 1930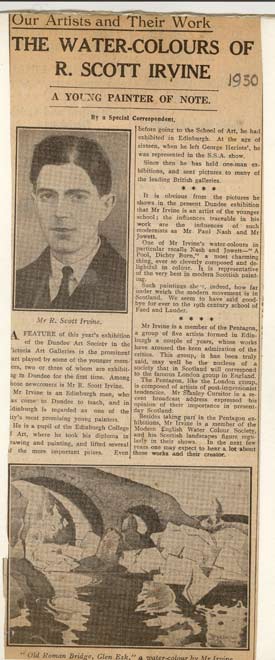 A FEATURE of this year's exhibition of the Dundee Art Society in the Victoria Art Galleries is the prominent part played by some of the younger members, two or three of whom are exhibiting in Dundee for the first time. Among those newcomers is Mr R. Scott Irvine.
Mr Irvine is an Edinburgh man, who has come to Dundee to teach, and in Edinburgh is regarded as one of the city-s most promising young painters.
He is a pupil of the Edinburgh College of Art, where he took his diploma in drawing and painting, and lifted several of the more important prizes. Even before going to the School of Art, he had exhibited in Edinburgh. At the age of, sixteen, when he left George Heroin-s, he was represented in the SSA. show.
Since then he has held one-man exhibitions, and sent pictures to many of the leading British galleries.
It is obvious from the pictures he shows in the present Dundee exhibition that Mr Irvine is an artist of the younger school; the influences traceable in his work are the influences of such modernists as Mr Paul Nash and Mr Jowett.
One of Mr Irvine's water-colours in particular recalls Nash and Jowett "A Pool, Dichty Burn," a most charming thing, ever so cleverly composed and delightful in colour. It is representative of the very best in modern Scottish painting.
Such paintings show, indeed, how far under weigh the modern movement is in Scotland. We seem to have said goodbye for ever to the 19th century school of Faed and Lauder.
Mr Irvine is a member of the Pentagon, a group of. five artists formed in. Edinburgh a couple of years ago, whose works have aroused the, keen admiration of the critics. This group, it has been truly said, may well be the nucleus of a society that in Scotland will correspond to, the famous London group in England.
The Pentagon, like the London group, is composed of artists of post-impresionist tendencies. Mr Stanley Crustier in a recent broadcast address expressed his opinion of their importance in presentday Scotland.
Besides taking part in the Pentagon exhibitions, Mr Irvine is a member of the Modern English Water Colour Society, and his Scottish landscapes figure regularly in their shows. In the next few years one may expect to hear a lot about these works and their creator. -
Scottish Arts Club, Edinburgh, solo exhibition, 1940
Scottish Arts Club, Edinburgh, solo exhibition, 1940. Positive review in the Scotsman Newspaper.